This summer school will take place in Rudkøbing on the island Langeland. Click here for map.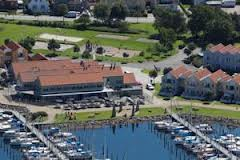 Hotel Rudkøbing Skudehavn is the venue of the summer school.
Accomodation
We will be accommodated at Hotel Rudkøbing Skudehavn in rooms of two persons; four persons share one cottage.
Rudkøbing
Rudkøbing is the largest city on the island of Langeland with 4,547 inhabitants. It is an old market town characterized by winding cobbled streets and narrow alleys with old merchant houses and cottages from ancient times.
On Gåsetorvet Square you find a statue of the famous Danish physicist Hans Christian Ørsted (1777-1851), who along with his brother Anders Sandoe Oersted grew up in here.
At Langeland you'll see hatbakker – long parallel rows of 10-20 meters high hills – which are believed to be formed by the ice.